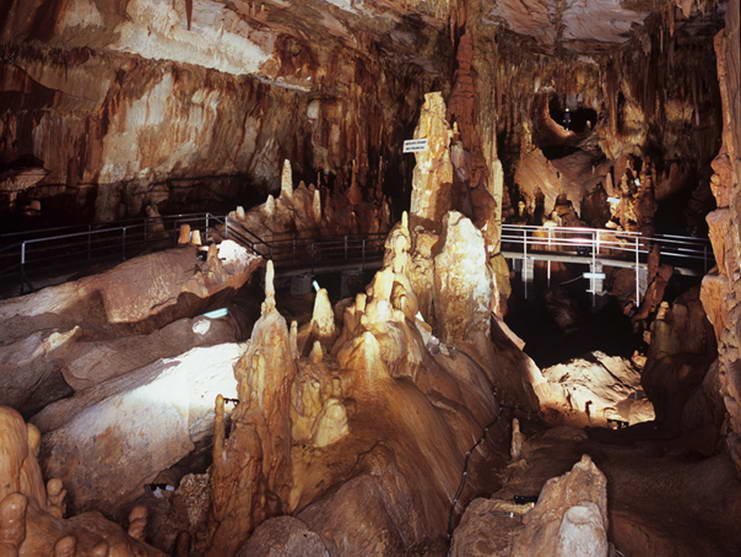 ---
Description
Petralona Cave lies at the foot of Katsika Mountain at an altitude of 250 meters and just 800 meters away from Petralona village. This is one of the most important speleological sights due to the immense paleontological interest. The exploration of the cave started on 1959 by the president of the Hellenic Speleological Society, for that time, Ioannis Petrocheilos, that surveyed the cave and named it "Kokkines Petres" ("Red Rocks"), because of its coloration.

In 1960, the much discussed Petralona Archanthropus' Skull (a fossilized cranium of a prehistoric man), was found by natives. The cranium along with other findings (horse, cave bear, panther, hyena, and deer fossils), is kept at the Aristotle University of Thessaloniki. Both the cave and the finding were studied by many Greek and foreign scientists. The dating of the cranium has puzzled the scientific community for decades, and is thought to be around 600 thousand years old.

The total length of the corridors comes up to 1,500 meters and covers 10,400 square meters. The explicit decoration of stalactites and stalagmites, columns, disks, and other fine formations make the journey a rewarding experience.


IN DETAIL

Administration Anthropological Association of Greece

Responsible A. Poulianos

Working hours Winter: 09:00' - 16:00'

Summer: 09:00' - 18:00'


General information

Ticket price (euro) 7,00 € General admission*

5,00 € Groups*

4,00 € Students' Groups*

* includes visit to the museum

Tour guiding Yes

Duration of visit 30 min.

Aproximate time of waiting up to 30 min.

Published: 1 Jun. 2010
---
Where to stay
accommodations located nearby
---
More Holiday Ideas
what else you can see here around