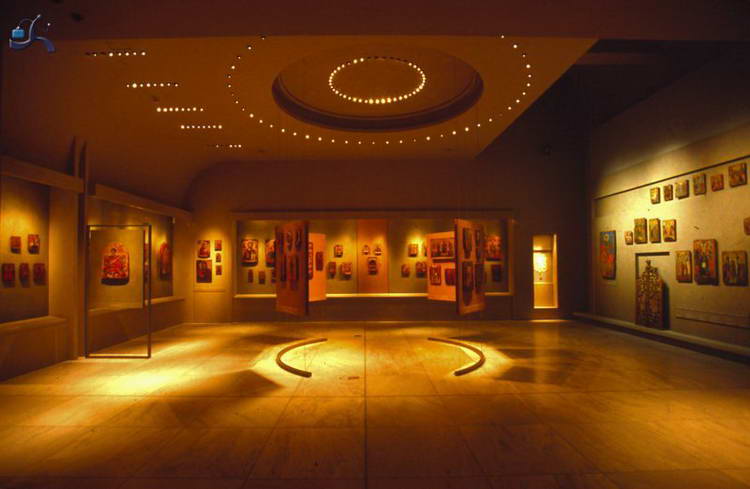 ---
Description
The byzantine empire, which in an early period of flourish extended from Near East to Gibraltar, was a multicultural state, legally organised on the basis of its roman heritage, laid its foundations on the ancient Greek tradition and on the dominant Christian religion.

The permanent exhibition of the Museum of Byzantine Culture presents various aspects of Byzantine art and culture, as well as of the following era, after the fall of the Byzantine Empire to the Ottoman Turks in 1453.

2,900 artefacts, organised in display units which narrate, in chronological order, "short stories" that present, in a comprehensive and pleasant way, aspects of byzantine art and culture, from its origins in late antiquity (3rd - 4th c. A. D.) to the Fall of Constantinople (1453), as well as survivinng aspects of the former culture to the ages after the Fall to the 19th century. Frescoes, mosaics, icons, marble architectural members, integrally detached frescoed early christian burials, valuable ecclesiastic utensils, objects of personal ornament, but also humble functional objects of everyday use present aspects of life in Byzantium, from the organisation of religious and social life and the artistic and intellectual production to private life and activities in the market, the countryside and the sea.

The exhibits are displayed not merely as works of art, but as witnesses to the culture that created them and the society that used them, within an informational framework of information on their original context and function.


Opening hours

8.00-20.00, Monday 13.30-20.00

The Museum of Byzantine Culture is closed on 25 - 26 December, 1 January, Orthodox Easter Sunday and 1 May.

Published: 1 Jun. 2010
---
Where to stay
accommodations located nearby
---
More Holiday Ideas
what else you can see here around