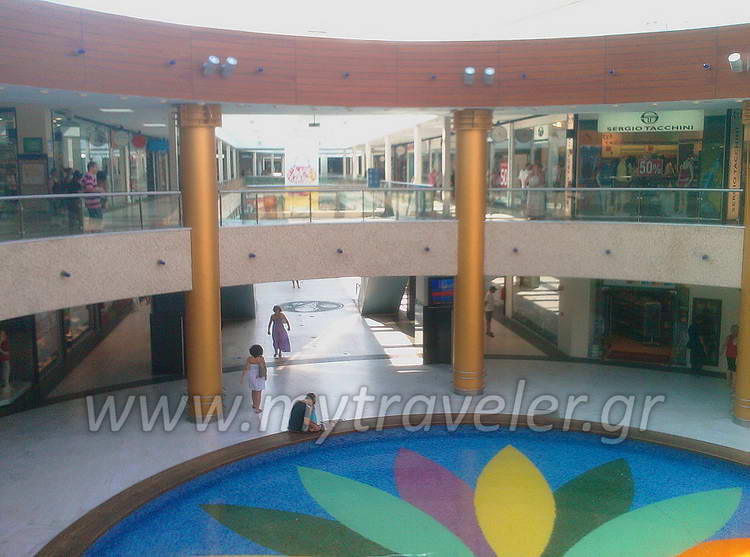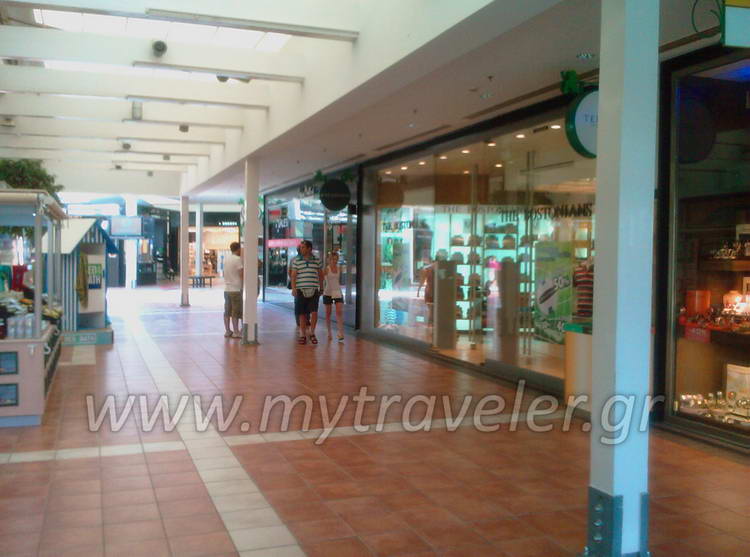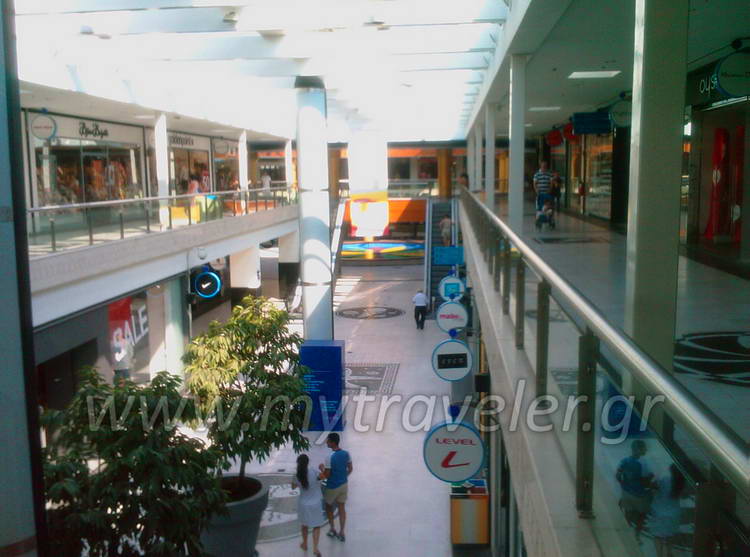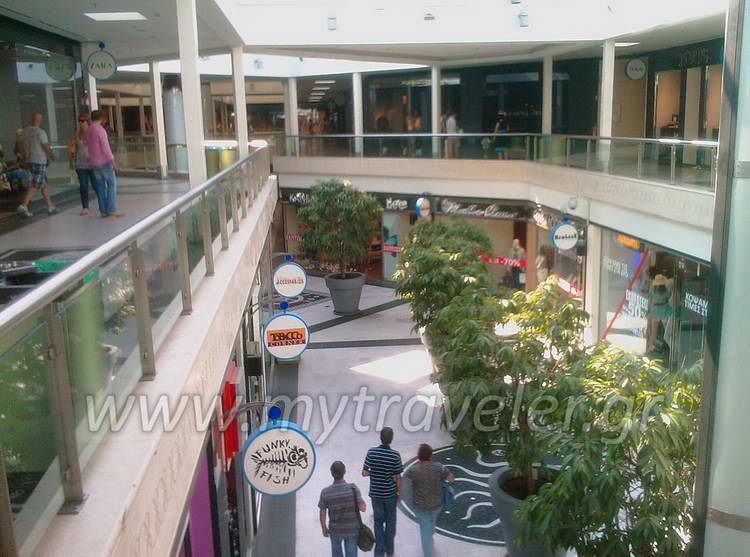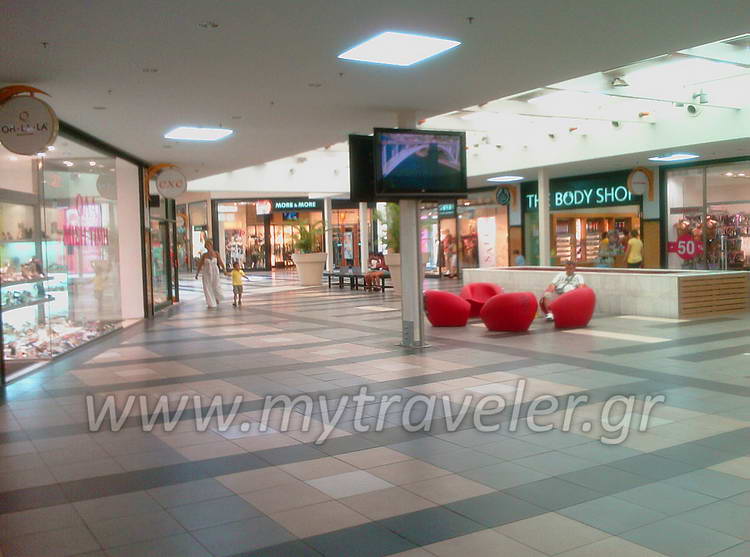 ---
Description
The Mediterranean Cosmos is an innovative project which represents a variety of shopping, entertainment and cultural activities that have been radically changing the habits and perceptions of the Greek and Balkans consumers.
Mediterranean Cosmos with 210 stores in total, 33 restaurants and cafes, supermarket, cinemas and bowling, a 400 amphitheatre seats for various events, a kindergarten, a Greek orthodox church and a traditional Greek village , it is an everyday, all day long safe and pleasant destination for everyone.
Mediterranean Cosmos a whole city of shopping and entertainment is waiting for you.
Mediterranean Cosmos is located at the national road Thessaloniki - Moudania, at municipality of Pylea and very close to the ring road. Only 5 minutes from Makedonia International Airport and 20 minutes from the centre of Thessaloniki. Important 'neighbours' are: Diabalkaniko Medical Centre, Holel Nikopolis, Ikea, Magic Luna Park, Leroy Merlin and Apollonia Politia.
Line Bus no 36 (Bulgari - Ikea)
Availability of taxi service at Parking 6
Parking for bicycles and motorcycles closest to Entrance 6
WORKING TIMETABLE
Monday - Friday
09.00 - 21.00 Supermarket
10:00 - 21:00 Stores
09.00 - 01.00 Restaurants
12.00 - 02.00 Cinema
Saturday
09.00 - 20.00 Supermarket
10:00 - 20:00 Stores
09.00 - 02.00 Restaurants
11.00 - 02.00 Cinema
Sunday
09.00 - 01.00 Restaurants
11.00 - 02.00 Cinema
Stores:
Accessorize
Active Generation
Adidas
agapitos
anemos
Ape Tin Poli
Aristoteli Bitsiani
Askaridis
Attrattivo
Baby Nak
Baby Q
Bag Stories
Benetton
Benetton Kids
Bershka
Bijou Brigitte
Bizart
Bloom
Bodytalk
Boggi
BSB
Cafe Brulee
Calzedonia
Celio
Celio Club
Cereria
Chatzifotiou
Chief
Columbia
Cook Shop
Corner Pizza
Dale
Daledream
Delice de Crepe
Dimitriadis - DigitalPhoto
Domus Homus
Domus Homus Kids
DPAM-Du Pareil au Meme
Energiers
Ethnic Art Accessories
Eurobank
Evans
Even
Everest
Exe
Farmakio
Flexa
Folli Follie
Footlocker
Fregio

Fresh Line
Frozenwave
G-Star
Galerie de Beaute
Gant
Garcon Brasserie
Geox
Germanos
Goldenpoint
Goody's
Grama
Grand Masoutis
Gyros Presidential
H&M
Hot Pot
Hush Puppies
Ianos
Imaginarium
Imbiss
INTERSPORT
Intimissimi
Ionia
JB Bournazos
Jennyfer
Jewls & Jems
Johnson
Kanellopoulos Fashion
KFC
Korres
Ksanthi Hair Gallery
La Stagione
Lapin House
Larooz
Leonardo
Level
Loisir
Lynne
M&K
Man & Manetti
Mango
Mark Aalen
Marks & Spencer Men
Marks & Spencer Women
Massa's
Massimo Dutti
Med
Mikros Vorias
Millennium Bank
Millennium Fin
Minerva

Mini Raxevsky
Miss Manicure
Model Planet
Mongo
Monsoon
More & More
Mr. Gut
Multirama
Must
Nak
National Bank Of Greece
Navy & Green
New Look
New Matic
Nike
Nike Woman
Notos Exclusive
Nterlikatesen
Ocean Fish & Ships
Octopus
Oh La La
Oniro signe
Onirohora
Optical Papadiamantopoulos
Oxette
Oxford Company
Oxford Company Woman
Oysho
Paidocosmos
Pantofleria
Paradosiako
Parousiasi
Patafritas
Pepe Jeans
Per Se
Plaisir
Playhouse
Pon Pon
Promod
Public
Pull & Bear
Raxevsky
Replay
Rodanos
Roma Pizza
Sandy.s
Sarah Lawrence
Sephora
Sergio Tacchini
Sfera

Simply Burgers
Slalom
Staff
Stradivarius
Swarovski
Swiss Exclusive
Tally Weijl
Tassos Mitropoulos
Telemarketing Store
Tempus Jewellery
Terkenlis
TGI Fridays
The Body Shop
The Bostonians
The Drugstore
Thios Vanias
To Pro Po
Tobacco Corner 1
Tobacco Corner 2
Toi & Moi
Tommy Hilfiger
ToThelo
Tous
Ulla Popken
Underwear Stores
Village Fun n Bowl
Vodafone
www.home.com
X Sports Venture
Yamamay
Zara
Zara Home
Zorpidis

Published: 1 Jun. 2010
---
Where to stay
accommodations located nearby
---
More Holiday Ideas
what else you can see here around