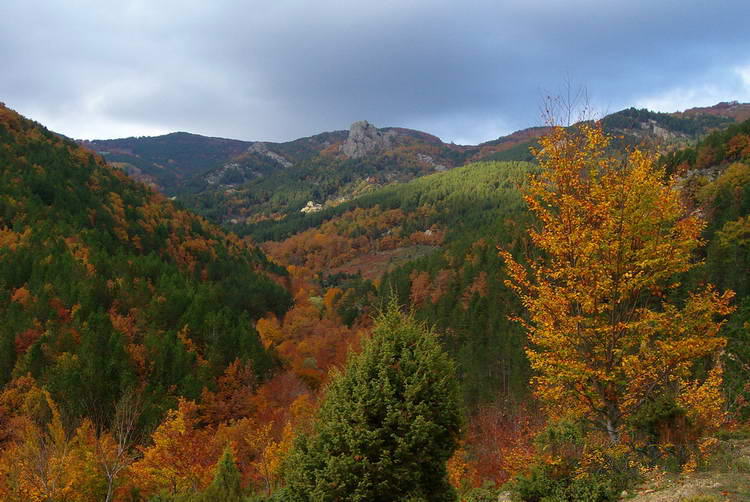 ---
Description
Cholomontas mountain is located in central Chalkidiki, covering an area of 275000 Km2 just in the middle of the peninsula. Of this area, 21000 Km2 are the Shelter of Wild Life in the area of Profitis Ilias of Polygyros. A similar shelter, covering 16500 Km2 is located in the region of Arnea, while 14460 have been characterized as a Controlled Hunting Territory.

According to the project NATURA 2000, 212.480 Km2 in Cholomontas are protected, have been nominated as a Zone of Special Protection (region: Taxiarhis-Polygyros, Code: GR1270012). Cholomontas or Ipsizomenos, as it was his ancient name, is a mountain fool of natural flora. Flora reaches the highest level of the mountain at its top of 1165m. Cholomontas landscape is a mixture of valleys, gulches and canyons. On the top, the dominant plants are forest trees such as Chestnut trees, fir trees, pine trees and hollies, while in lower levels oaks are everywhere. Amongst forests there are plenty of glades covered with herbs. Many rivers, natural springs and streams can be also found.


This environment promotes the development of large populations of wild animals and the reproduction of forestry birds. Many raptors are reproduced in the area such as eagles, falcons, condors etc: Pernis apivorus, Gyps fulvus, Circaetus gallicus, Aquila chrysaetos, Falco peregrinus, Bubo bubo. It is also possible that the reproduction of the black stork Iconia nigra takes place on this mountain.


Cholomontas is a region of great importance for the environment of North Chalkidiki and is a place of extraordinary natural beauty. Many mountain footpaths can be followed and some visits at the pictorial small villages along the way is a must.

Published: 1 Jun. 2010
---
Where to stay
accommodations located nearby
---
More Holiday Ideas
what else you can see here around