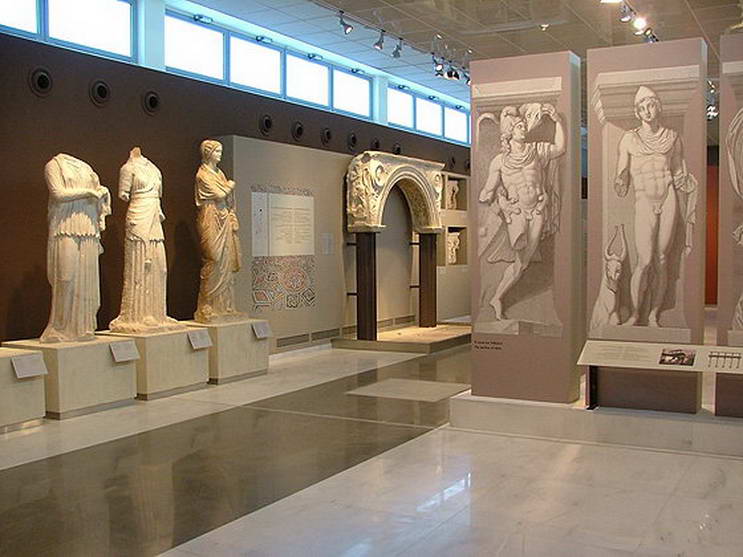 ---
Description
The archaeological museum of thessaloniki is housed in a 1962 edifice, designed by architect Patroclos Karantinos. It is a listed building as a unique example of modernist art in Greece. The Museum's collections include distinctive works of art and excavation finds from across Macedonia, as the archaeological service was the first state service to operate in Thessaloniki immediately after the liberation of the city.
Since 2002 it operates as an independent special peripheral service of the Ministry of Culture and Tourism.
In 2003 it was completely renovated in order to meet new technical and museological advances. The new exhibition of antiquities was organised into six permanent thematic units that encompass all aspects of personal and public life in antiquity. One grand and 2-5 minor temporary exhibitions take place annually, covering special and unique features of the Macedonians' everyday life in relation to the wider cultural framework of the rest of the Greek world and the broader zone of southeastern Mediterranean basin.
E-Book
opening hours
8.00-20.00
25-26 dec / 1 jan /
25 mar / 1 may / Easter
The museum remains closed.
admission fees
General admission fee € 6
Reduced fee € 3
Combined ticket € 8
It includes admission fee to the adjacent
Museum of Byzantine Culture.
Reduced combined ticket € 4
Free entrance
Every Sunday from 1/11 to 31/3.
Entrance may be free for special groups
of visitors as well as during holidays.
For further information please visit
our website.
Published: 1 Jun. 2010
---
Where to stay
accommodations located nearby
---
More Holiday Ideas
what else you can see here around